Apr 13, 2017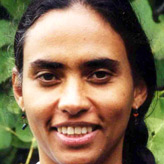 Our Dharmabyte podcast today is entitled Going Beyond the Cushionby Amaragita.
Amaragita explodes and expands notions around the practice of paying attention via awareness of the breath, using the deceptively simple exercise of taking just five breaths through the day.
From the talk Meditation Workshop and#8211; Five Breaths
a companion to another talk, The Possibility of Practice and her guided Meditation on the Three Bodies (physical, emotional, and mental) this workshop is indispensable.
Workshop recorded on the Mothers Retreat at Taraloka Retreat Centre, 2015.